In Memory
Ken Ballinger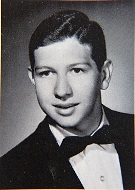 Ken Ballinger
November 4, 1949 ~ May 24, 2009
Kenneth Lee Ballinger, 59, went to be with his Lord and Savior Sunday, May 24, 2009.
Funeral: 11 a.m. Wednesday at Benbrook United Methodist Church.
Interment: Mount Olivet Cemetery.
Visitation: 6 to 8:30 p.m. Tuesday at Mount Olivet Funeral Home.
Memorials: Donations may be made to the Hemophiliac Foundation.

Kenneth was born Nov. 4, 1949, in Lubbock to Lee Roy and Mary Louise Ballinger. He was a pharmacist with Eckerd (CVS) drug stores for 30 years. He graduated from the University of Texas in 1977. Kenneth was a member of Benbrook United Methodist Church and Southwest Lions Club. He was recognized by the Hemophiliac Foundation as being one of the oldest survivors of hemophilia. He was a mentor of pharmacy technicians, Juana Ortiz and Rosie Naranjo.
Survivors: Wife of 34 years, Nancy Ballinger of Fort Worth; son, Adam Lee Ballinger of Fort Worth; daughter, Angela Gaye Waters and husband, Duane, of Wylie; brother, Larry Ballinger and wife, Debra, of Spring; nephews, Jonathan and Christopher Ballinger of Spring; very special aunts and uncles; many other family and friends.
Published in Star-Telegram on May 26, 2009
http://www.legacy.com/obituaries/dfw/obituary.aspx?pid=127680707